Enable a secure remote desktop experience from virtually anywhere
Azure Virtual Desktop is a desktop and application virtualization service that runs in the cloud.
Here's what you can do when you run Azure Virtual Desktop on Azure:
Configure a Windows 11 or 10 multisession deployment that delivers a full version of the Windows experience with scalability
Introduce Microsoft 365 business applications and optimize them to run in multi-user virtual scenarios
Provide Windows 7 virtual desktops with free extended security updates
Leverage your existing Windows Server and Remote Desktop applications and desktops on any computer
Virtualize desktops and applications
Manage workstations and applications from different Windows and Windows Server operating systems with a unified management experience

Built-in intelligent security
Help keep your applications and data secure and compliant with security capabilities that can proactively detect threats and take remedial action.
Reduce cost using existing licenses
Use existing eligible licenses to reduce costs with a modern cloud-based virtual desktop infrastructure (VDI), and pay only for what you use.
Leverage the seamless Microsoft Teams and Microsoft Office experience
Provide employees with the same experience they'd have on a local desktop or laptop—whether they're managing their inbox with Outlook, sharing files in OneDrive, or collaborating with colleagues on Microsoft Teams.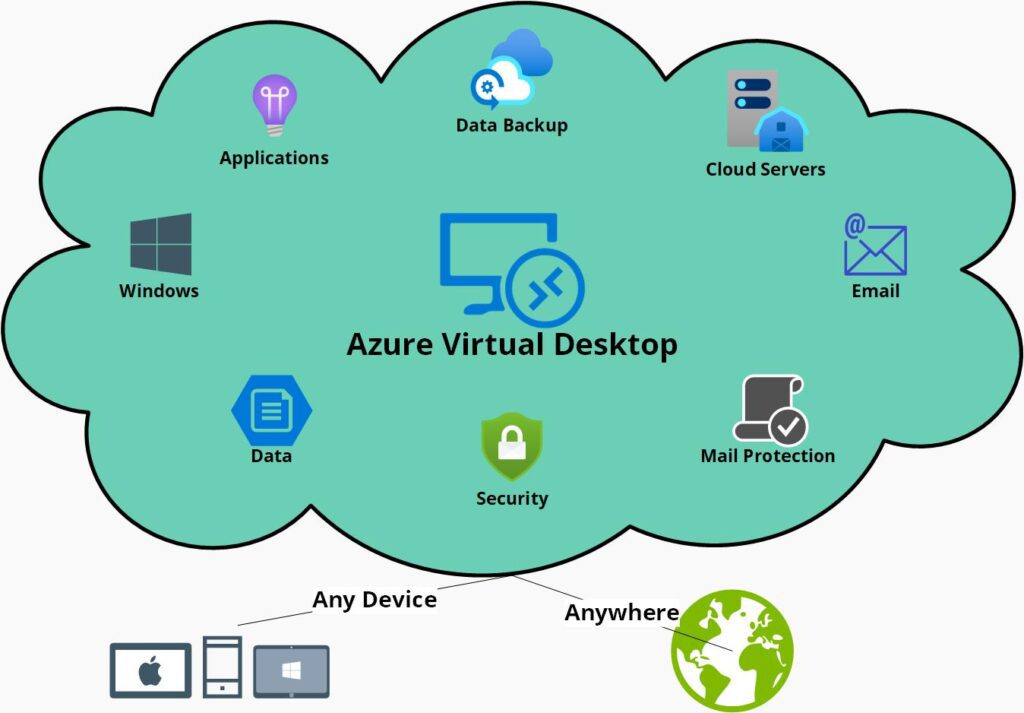 Modernize your Citrix and VMware virtual desktop infrastructure
Maximize your investments and skills by integrating Azure Virtual Desktop into existing desktop and app virtualization environments with Citrix DaaS for Azure and VMware Horizon Cloud on Microsoft Azure.
In addition to support for hybrid deployments, centralized management, and advanced tooling, Citrix and VMware customers have the ability to rapidly deploy Windows 10 and Windows 11 Enterprise multi-session on Azure Virtual Machines.
Access Windows 10 and Windows 11 desktop and applications from virtually anywhere
Bring your own device (BYOD) and access your desktop and applications over the internet using an Azure Virtual Desktop client such as Windows, Mac, iOS, Android, or HTML5. Choose the right Azure virtual machine (VM) to optimize performance and leverage the Windows 10 and Windows 11 multi-session advantage on Azure to run multiple concurrent user sessions and save costs.
Our expertise allows us to support you in all your projects to transform your environment, so that you can benefit from real efficiency gains.
Our engineers will put all their knowledge and know-how at the service of the evolution and management of your technological tools, according to your needs and your budget. By relying on their advice, you will obtain a more efficient, robust and state-of-the-art IT infrastructure.
These cloud solutions may also interest you
Interested by our services & solutions?
When it comes to managing IT for your business, you need experts.